Hawaii
The Hawaii Islands have everything you need for a relaxing vacation. From black sand beaches, snow covered mountains, dense green rainforests and hot deserts. You will find the most colorful beaches, hike trails with a pristine view and let's not forget the honeymoon-esque tropical vibe. A dip in the azure blue ocean with the Technicolor coral reefs is a beautiful experience. From family fun destinations in Maui, to the best hangouts in Oahu which attracts party-animals and surfers. A major attraction, the fire spitting Kilauea volcano, beckons those who seek adventure.
2. Maui
From attractive wildlife, hippies, hula dancers, golf along fairways, and snorkeling with a variety of turtles and sea creatures, Maui is drastically different from the mainland culture. Travel along the road to Hana to experience the coastline and explore Haleakala which has the world's largest dormant volcano. With tribal battle grounds and the Lao valley state parks, Maui indeed has a flavor of varied culture and diversity.

3. US Virgin Islands
This place has something different to offer you. From moko jumbies performing at the carnival parade to the aroma of the famous salt fish plate. This place is also called the "American Caribbean Paradise," "Rock City" for its hilly areas and "Craggy horizon." St. Thomas is known for its high-end luxury stores on the main street. A short ferry ride down east is favored by nature lovers and honeymooning couples. Spending time on the islands of St. Thomas, St. John or St. Croix will show you the colonial history and the beauty of untouched nature in a short getaway.

4. Outer Banks
A lot of rich history finds its roots here. The Wright brothers took their first flight here, Pirate Blackbeard fought his last battle here and the mysterious Lost Colony disappeared in this very place. If you're expecting some adventure and action, Outer Banks will not disappoint you. Activities such as fishing, wildlife watching and other adventure sports can be performed here. A scuba dive will definitely surprise you as you'll get to explore 3000 ship wrecks in one dive. Family time can be spent at mini-golf courses and the North Carolina Aquarium.

5. Sedona
Sedona is one of the most dramatically colorful and beautiful places. It's a place about red rocks and rugged good looks. Traditional local treatments of red clay wraps and blue corn body scrubs are a heavenly relief on a stressful day. A glass of local wine is always a bonus. Hiking trails and long drives will offer the best ever scenic experience. Many filmmakers have chosen these fiery rock formations and splendid nature trails for their movies.

6. Napa Valley
A progressive wine industry, Napa Valley has also become a vacation hot spot. The hillsides views, vineyards and illustrious estates make for a perfect backdrop. Resorts provide activities like golfing and spa pampering. A trip to California wine country will be memorable with the top cabernet and untouched nature.

7. Yellowstone
An outdoor enthusiast's paradise, the Yellowstone National Park includes multicolored pools, hot springs, dense forests, wildlife trails, expansive meadows and volatile geysers streams. During your nature trails you will have company in the form of the park's permanent residents like the buffalo, elk and even grizzlies. You will come across plenty of untouched territory to explore. Also, the Yellowstone Lake and Mammoth hot springs are an attractive destination for nature lovers.
 8. Lake Tahoe
Lake Tahoe is sheer beauty. The stunning blue lake alone is worth a trip. Providing miles of hiking trails, dozens of picture-perfect shots, gondola rides, hot air balloon rides and scenic cruises on the crystal clear water. This place will definitely blow your mind and bank account too. The lake is one of the most beautiful water bodies of United States.

9. Lana'i
This is one of the most beautiful parts of the Hawaiian Islands consisting of remote beaches, ancient rock formations and colorful water bodies with coral reefs. Mother Nature has put on quite a show for you to see if you visit this island. A taste of adventure and best nature trails is on the top of the list. Plush and luxurious resorts provide you a long list of activities such as golf, horseback riding and lawn bowling.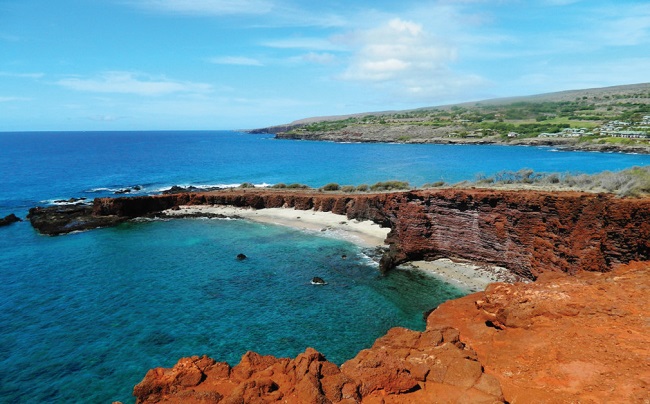 10.Martha's Vineyard
You can add this to your secret summer hideaway spot. This place has exorbitantly expensive cottages and fancy dining places around the town. But in contrast you will still find budget cottages in a few areas. Vineyard Haven and Menemsha are focused on the marine industry. Play it cool when you spy some film stars or famous folk in town. This triangular island is definitely a star-studded hideout.